Bricks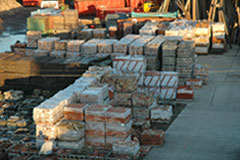 Bricks may be made from clay, shale, soft slate, calcium silicate, concrete, or shaped from quarried stone.
Clay is the most common material, with modern clay bricks formed in one of three processes - soft mud, dry press, or extruded.
The oldest shaped bricks found date back to 7,500 B.C. From archaeological evidence, the invention of the fired brick (as opposed to the considerably earlier sun-dried mud brick) is believed to have arisen in about the third millennium BC in the Middle East. Being much more resistant to cold and moist weather conditions, brick enabled the construction of permanent buildings in regions where the harsher climate precluded the use of mud bricks.
At Clearaway Reclamation we stock almost 100,000 bricks in approximately 25 different styles and shapes and can certainly help you find the right ones for your project. If you can't see what you are looking for here please contact us as we have new stock come in all the time.
All of our bricks are sorted and cleaned by our staff in our yard to guarantee that you only get quality products.
Most of our bricks come from demolition jobs but we do also buy from the trade and public so if you have some bricks that you are looking to sell please get in touch with us.
| | | |
| --- | --- | --- |
| | | |
| Reclaimed French Tudors | Reclaimed Red Stocks | Reclaimed Yellow Gaunts and Stocks |
| | | |
| | | |
| Reclaimed Wirecuts | Reclaimed Mixed Stocks Multi | Reclaimed Wealden Stocks |
| | | |
| | | |
| Reclaimed Tudors | New Imperial Reds | Reclaimed Snapped Blue Headers |
| | | |
| | | |
| Reclaimed Victorian Pavers | Reclaimed Stable Blocks | Reclaimed Metric Pavers |
| | | |
| Reclaimed London Stocks | Reclaimed Dark Multi Stocks | Reclaimed High Brooms Bricks |
| | | |
| White Ryarsh Bricks | Blue Paving Bricks | |